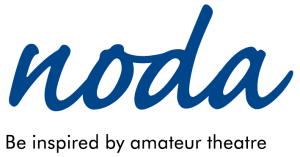 The Noda review of our production of Footloose is now available.
Elizabeth Donald of NODA Scotland says:
"Bursting with life and talent, the young cast gave this production their all. From the energetic opening number they engaged with song, dance and action in equal measure. His father having abandoned him and his mother, teenager Ren from Chicago finds moving to Bomont a challenging experience especially when he comes up against the local minister and community and their restrictive law against dancing. The themes of dealing with grief and the adult-teen relationships are sensitively explored. The principals showed they grasped the characters they inhabited bringing out the poignancy in songs like 'Learning to be Silent' and 'Can You Find It in Your Heart', yet also the exuberance of youth in the signature song 'Footloose' and 'Mama Says'. The linchpin of the show rested on Paul MacDonald in his role of Ren. His singing never missed a beat and his confrontation with Rev. Moore in Act 2 contained a blend of compassion and resistance that resonated with the audience. Freddie Bang showed his talents as the bereaved Rev Shaw Moore – entirely credible and a difficult role for him to portray. Hannah Pearson excelled herself as minister's wife Vi grieving too yet understanding and caught between the needs of her husband and teenage daughter. Lois McKean grew into the role of daughter trying to deal with the loss of her brother and find her own life. Mature and moving moments like yelling her feelings out as trains passed were well delivered, her singing and dancing were spot on and she was a well-matched singing duo with Ren. Making his mark as Willard Hewitt was Euan Arthur who brought pathos and humour to the role. Daisy Campbell as Rusty exemplified the difficulties found in trying to understand the tongue tied Willard. Daniel Scrymgeour played Chuck the villain with conviction as did Erin McInnes as Ren's Mum Ethel. The fast pace of the show centred on the energetic and acrobatic choreograph. Good direction brought out lovely harmonies. Transitions from scene to scene were smoothly accomplished, costumes were age and era-appropriate and scenery and lighting complimented the action. Great show. Such energy. Well Done. 354"
The review on the NODA site can be found here.