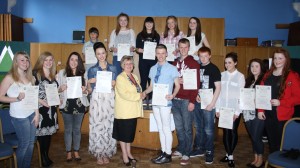 Members were recently presented with NODA long service awards for three, six and nine years service to amateur theatre.
The awards were presented by Elizabeth Donald, Noda  Regional Representative  for District No 3 (Central Scotland), "
"I was delighted to come along to present certificates to committed members of Big Bad Wolf. It is heartening to see so many enthusiasts giving effort and time to the amateur stage.  The process of learning stagecraft contributes to the confidence of young people which they can take to any path in life. Noda aims to support and encourage young people to discover the delights of performance.  Congratulations to all those gaining an award."
This is the first year that Big Bad Wolf Children's Theatre Company have presented awards which we now become an annual event.