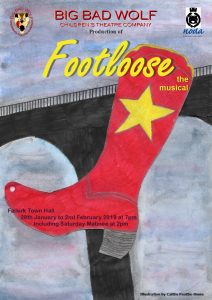 Big Bad Wolf Children's Theatre Company have arrived at the FTH for the 2019 production of Footloose from Tuesday 29th January to Saturday 2nd February.
Join us to see the story of Ren McCormack, a teenage boy from Chicago. He and his mother move to the small town of Bomont after his father abandons them. Upon arriving, Ren finds himself at odds with most of the town, including the Reverend Moore. The Reverend has convinced the town to outlaw dancing, which Ren finds unbelievable. With the help of Ariel (the Reverend's daughter) and Willard (a country hick who becomes his best friend), Ren convinces the Reverend to let the teenagers dance, and in the process helps the town to heal from a tragedy that affected them all.
Tickets are available on-line from the Box-Office page or can be purchased at the door.
There is a special price of £10 for the Tuesday and Thursday performances so be quick and grab a bargin.
Catch up with rehearsals by seeing our web-series, Wolf Pack Diaries.