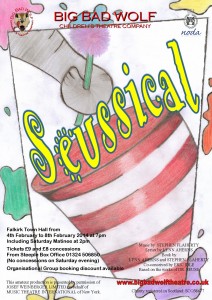 Tickets for performances of Seussical the Musical at Falkirk Town Hall – February 4th to 8th 2014 are now available to the public from 8th November 2013.  You can purchase them from the Steeple Box Office, Falkirk, tel-01324 506850. Tickets are £9 and £8 concessions (no concessions on Saturday evening)
Organisational/Group bookings discount available
Following on from the sellout success of Annie. Big Bad Wolf Children's Theatre Company return to FTH for their 2014 production of Seussical.
Based on the works of Dr. Seuss it weaves together his most famous tales and characters. The show follows the adventures of Horton, an elephant who one day hears voices coming from a speck of dust. He discovers that within this tiny speck exists the smallest planet in the universe! On this tiny planet live a race of creatures known as Whos.
Although ridiculed by the other animals in the Jungle of Nool for believing in something he cannot see, Horton stubbornly persists in his belief that the Whos exist. Journeying everywhere from the Jungle of Nool to McEligott's Pool, some of the characters fall in love, have desperate adventures, and even save the world.