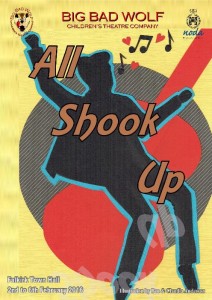 Tickets for performances of All Shook Up at  Falkirk Town Hall – February 2nd  to 6th 2016 are now available.  You can purchase them from the Steeple Box Office, Falkirk, tel-01324 506850. Tickets are £10 and £8 concessions (no concessions on Saturday evening)
Organisational/Group bookings discount available only from Big Bad Wolf by clicking here.
Big Bad Wolf Children's Theatre Company proudly present their 9th annual production – All Shook Up. Inspired by and featuring the songs of Elvis Presley®, Book by Joe Dipietro.
A musical comedy which takes place in 1955, somewhere in middle America, where one girl's dream and a surprise visit from a mysterious leather-jacketed, guitar-playing stranger help a small town to discover the magic of romance and the power of rock & roll. Among the songs are classics like "Heartbreak Hotel," "Love Me Tender," "Don't Be Cruel," "Can't Help Falling in Love," and of course the title tune.